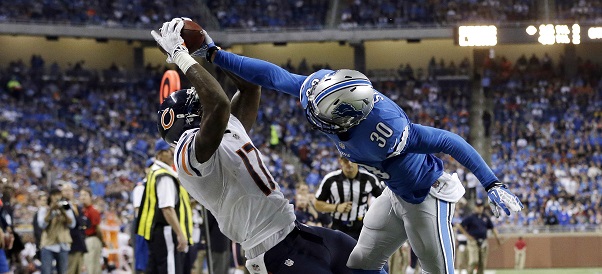 Nothing about this recent string of victories – and yes, two wins is considered a string – has been convincing. Nothing that has transpired in either game leads me to believe the 2014 Chicago Bears can line up against a good opponent and win. So…
Why do I like the Chicago Bears this week?
I always like the Chicago Bears.
What Don't I Like…
I don't like the match-up for the Bears offensive line, which has played poorly of late. Detroit simply has too many good players along their defensive front for the Bears to block with any consistency. The only way to counter this mismatch would seem to be the Bears committing to the run game* against the best rush defense in the sport. (As you can tell I am not expecting many points from the Bears this week.)
*Not how I'd do it. See the next words.
How Would I approach the Lions?
Spread them out and chuck it.
Committing to the run early will put the Bears off-sequence in the passing game. Tom Brady and the Patriots ran the ball a total of six times in the first half against Detroit and went into the locker room with a 24-6 lead. And when they threw the ball, they threw it quickly. The Lions defense is still suspect in the secondary and if ever there was a game for Brandon Marshall and Alshon Jeffery to assert their size and strength, this is it.
Seven Other Thoughts…