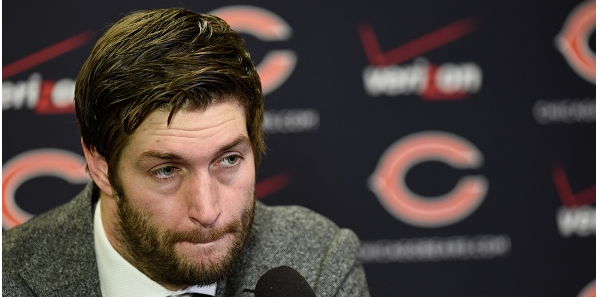 The following is a special piece from the artist known as Data.
Ever since Ryan Pace took over the Bears in the 2015 offseason, rumors have been swirling around Jay Cutler. First, Pace was desperate to move on from him and draft Marcus Mariota, but then that didn't work out, Cutler stuck around for 2015 and had a very good year, and all of a sudden the Bears were building around Jay Cutler. Then a rough start to the 2016 season that saw more turnovers than touchdowns before an injury knocked him out for a month happened, Cutler was replaced by Brian Hoyer, and head coach John Fox seemed to indicate Hoyer might be Chicago's starter going forward. But the Bears kept losing, Hoyer got hurt, and rumors swirled simultaneously that Fox was done with Cutler and Pace might be done with Fox. Then Cutler came back and played a tremendous game in an upset of Minnesota, and all of a sudden he's the quarterback we need, but not the one we deserve.
All that in a season and a half. It's been a whirlwind ride, and nobody has any idea what's going to happen in the last half season that could change the narrative around Cutler in either direction. Here's one thing that seems abundantly clear: Cutler is 33 years old and has a long injury history, so whether or not he's with the Bears in 2017, they need to start looking to the future of the game's most important position.
But there are a lot of different opinions as to how the Bears should do that. Some think they should cut (or more realistically trade) Cutler and draft the next QB with their 1st pick. Others think they should keep Cutler around but spend a draft pick on a QB to groom behind him.
In order to help figure out which approach gives you better odds of success, I looked at the draft history of recent NFL drafts to see what the odds are of landing a solid starting quarterback in various parts of the draft. It's too early to pass much judgment on 2016, as only 2 out of 15 quarterbacks drafted saw the field. So instead I looked at the 2011-15 drafts, giving us a 5-year sample size.