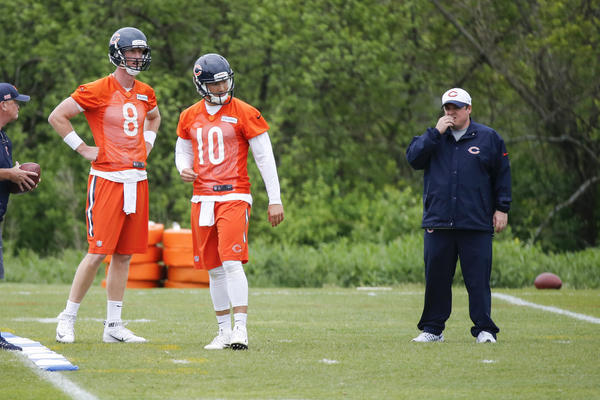 Promises be damned.
The Bears need to start their best quarterback in 2017.
Early indications are it is not Mike Glennon.
Beat reporters aren't allowed to report who played well and who didn't during organized team activities and minicamp practices but they've had a hard time hiding the fact that Glennon has struggled. And almost unanimously, they've "hinted" Trubisky looks like he belongs. If that continues to be the case, the Bears shouldn't bother wasting time with Glennon.
Although he has 18 starts under his belt, Glennon isn't exactly a known commodity. He showed promise as a rookie — at least in terms of being able to protect the ball — but regressed in his second year. The hope was that he improved under the tutelage of Dirk Koetter, but the Bears haven't seen that yet. They shouldn't wait.
The biggest knock on Trubisky was a lack of experience. He can't fix that by sitting on the bench and watching Glennon struggle. Trubisky has the size to hold up to the physicality of the NFL and the ability to play right away. If he's able to grasp the playbooks and adjust to the speed of the action, there really isn't a good reason not to throw him in.